Löfgren/Baerwald (58mm inner radius)
The equations of Löfgren, Baerwald and Stevenson are sensitive to the values ascribed to the maximum and minimum radius of the outermost and innermost groove spiral. Sadly, the question on which values to attribute to these dimensions is not answered by international standards; especially in the case of the innermost groove spiral.
For the two alignments indicated above on the Phædrus Audio alignment gauge, the innermost radius is taken to be 60.3mm which is a value adopted by Amercan manufacturers (RIAA Bulletin No, E4 - 1963). This is really the only standard we have.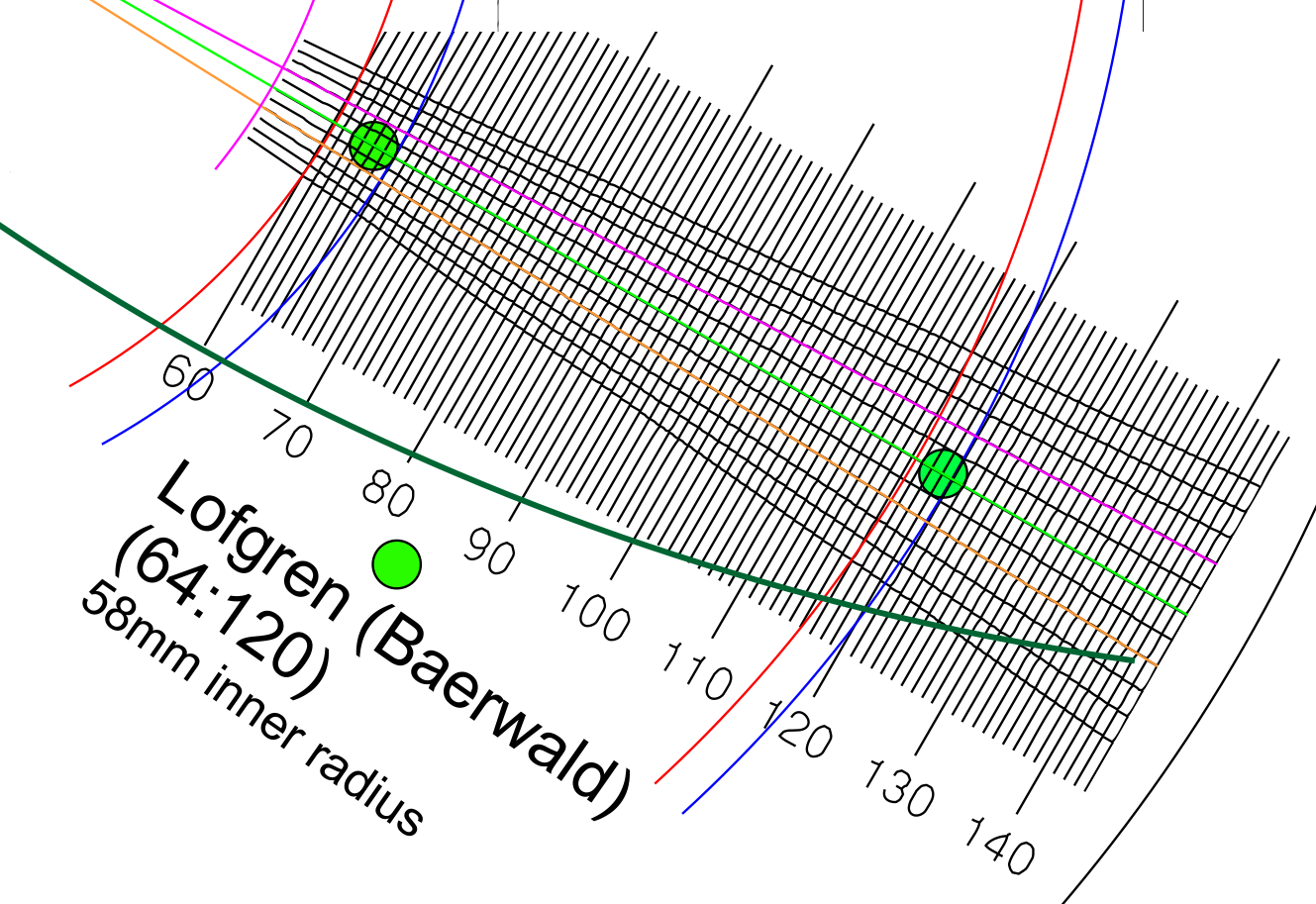 Other standards organisations seem to have had different ideas. British Standard (BS1928-1965) fails to specify any inner radius limit. German standard (DIN45547-1981) and the Japanese industrial standard (JIS S8502-1973) specified a minimum recorded radius closer to 58mm. These differences of opinion led to an international standard (IEC98-1987 or IEC 60098) based on the harmonisation of national standards in which no inner radius limit was specified at all!
With this paucity of standardisation, any decision as to the value of the minimum radius is subjective. How many European or Japanese records do you have? How many American? Some have argued that it is safer to take the smaller radius of 58mm as this more nearly reflects "international" conventions. And some have even taken the considerable trouble to measure their record collections to derive a value6. But the facts remain that geography, repertoire and pure chance will inevitably affect the resulting value. Hence our decision to opt for 60.3mm as the standard value.
Nevertheless, we feel we ought to be able to help vinylistas who want to adopt a Löfgren/Baerwald alignment based on a 58mm inner radius for which reasonable arguments have been advanced6. To this end, the Mk. II Phædrus Audio alignment gauge includes alignment targets for Löfgren/ Baerwald 64:120. These (green) targets are part of the universal protractor at the 4 o'clock position of the gauge. The inner point is also repeated at the 10 o'clock position because parallelism is a bit difficult to judge so close to the edge of the universal scale.
Checking alignments
The remainder of the protractor is not directly for alignment: instead it is used to measure and verify alignments accomplished using the solutions described above.
The complex grid at the four o'clock position comprises a set of tangential lines on 1mm spacing and a group of 11 radial lines, each one degree apart. The zero line and the ±2° radials are highlighted. With any of the alignments chosen, tangential angle-error should not exceed ≈2½° over the whole of the radius of the disc.
At 12 o'clock, there is an alignment grid-box at the radius of the innermost groove of a standard 7" record (a "single"). Check to see how non-parallel the cartridge is to the grid-box at this point. This grid-box should not be used for alignment. It is for information only. But it may reveal significant error.
Because distortion rises quite sharply after the innermost null point in either alignment, and because the inner groove of 7" record is significantly nearer the spindle than on a 12" record, if you want to play a lot of 45 RPM singles, you would be better to choose the Stevenson alignment.
The alignment gauge also includes the arc prescribed by a correctly aligned cartridge on the standard Technics SL-1200 Mk. 2 turntable simply because this turntable is so ubiquitous. Interestingly for such a popular-to-the-point-of-iconic turntable, the alignment recommended by Technics is Stevenson.
Calculation
The box at the bottom left of the adjustment gauge contains simple equations for calculation of overhang (D) and for offset angle (β) if the effective length (L) of the tonearm is known. These expressions are derived from Bauer4 with the corrections suggested by Seagrave5 and from Stevenson³.
Bauer & Seagrave's calculation of D is approximate, but is so close to Löfgren/Baerwald's figures that the inaccuracy is practically irrelevant. The value of d should be calculated first and this value substituted in the equation for D.
Stevenson's equations are exact for the given inner and outer radiï. All calculations are based on the RIAA standard of 60.3mm inner radius.
---
Other Phædrus Audio products which may be of interest......
---
Notes and References
1. Über die nichtlineare Verzerrung bei der Wiedergabe von Schallplatten infolge Winkelabweichungen des Abtastorgans. (in German) Löfgren, E. Akustische Zeitschrift, Vol.3, November 1938.
2. Analytical Treatment of Tracking Error and Notes on Optimal Pickup Design. Baerwald, H. G., Journal of the Society of Motion Picture Engineers, XXXVII. Dec., 1941. (Löfgren offered a complete solution several years before the Baerwald paper. There is some discussion that, in disseminating the earlier work, Baerwald never properly credited Löfgren.)
3. Pickup Arm Design. Stevenson, J.K., Wireless World May, June 1966
4. Tracking Angle in Phonograph Pickups. Bauer, B.B. Electronics March 1945
5. Seagrave, J.D., "Minimising Pickup Tracking Error", Audiocraft Magazine, Part 1, December 1956, pg. 19; Part 2, January 1957, pg. 25; Sequel, August 1957, pg. 22.
6. Arc Angles: Optimizing Tonearm Geometry. Howard K. Stereophile magazine March 2010.

---