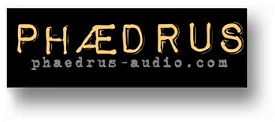 ---
PHILTER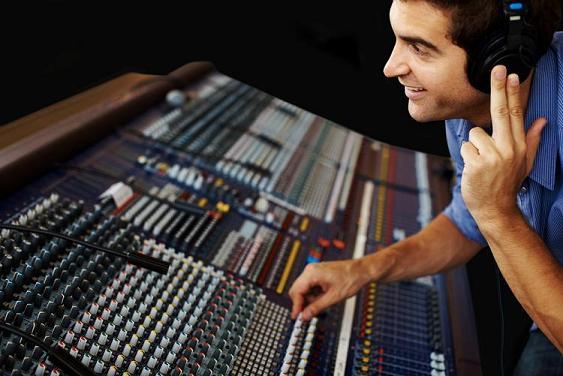 Passive EQ and tube recovery-amplifier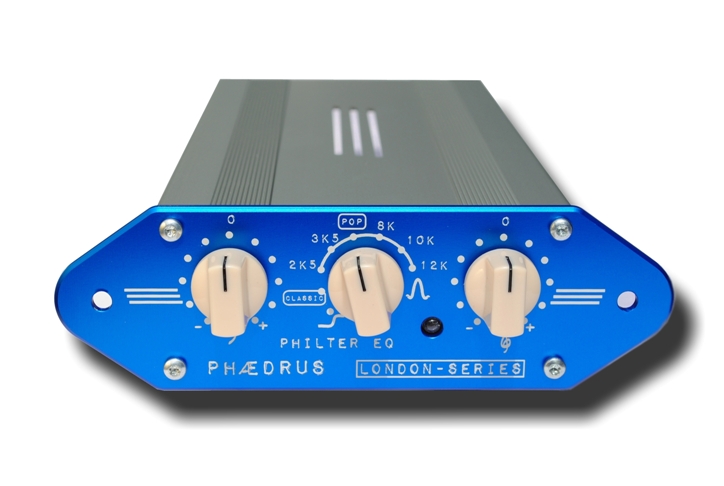 phil·ter also phil·tre (fltr)
n.
1. A love potion.
2. A magic potion or charm.
verb transitive
phil·ter also phil·tre
To enchant or bewitch with a philter. .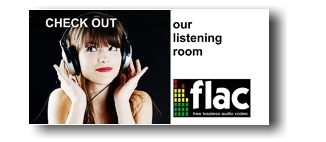 ---
PHILTER - Passive EQ and tube recovery-amplifier
The Phædrus Audio PHILTER recreates the famous, passive EQ circuits found in the great studios of the 1960s. In addition to low- and high-frequency shelving filters, the unit incorporates HF peak boost at: 2.5kHz; 3.5kHz; 5kHz; 8kHz; 10kHz; and 12kHz. Maximum cut/boost is 10dB controlled in steps of 2dB via precision, stepped, rotary attenuators. The EQ is entirely passive and incorporates high-quality inductors housed in mu-metal cans. The make-up gain is provided by a version of the EF86 & E88CC amplifier found in the PHAB.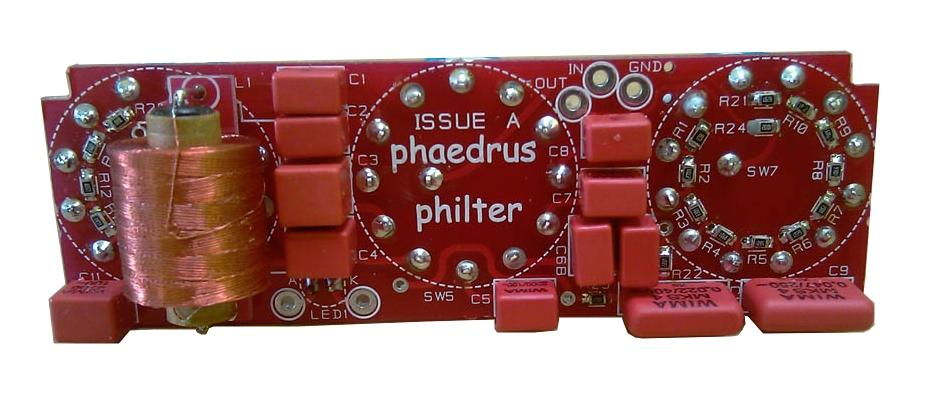 Detail of the PHILTER board
The Phædrus audio PHILTER is based on an enhanced version of the EQ we developed for the London Console.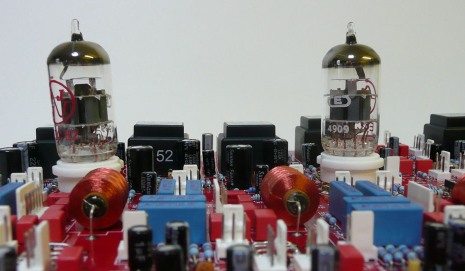 As you can see, the EQ is made up of capacitor and inductor circuits: there's not a gyrator, op-amp, or state-variable filter in sight!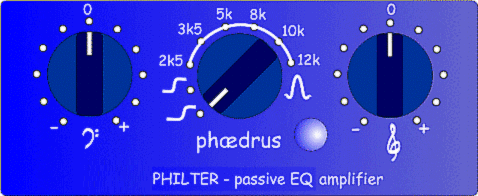 The front panel says it all!
Using the PHILTER is simple. I/O is via transformer-coupled, line-level XLR connectors on the rear, and the front-panel houses the tone-controls. The Bass and Treble controls are 11-position rotary-switches. Bass frequencies are controllable (boost/cut) by a total of 10dB, in 2dB steps. Treble frequencies are controllable (boost/cut) in the same way. However, treble boost curves are selected via the middle, multi-position rotary-switch. This selects boost centered upon the annotated frequencies: 2.5kHz; 3.5kHz; 5kHz; 8kHz; 10kHz; and 12kHz, or between a high and low shelf response. The response skein for the PHILTER (with the boost-curve selected to 5kHz) is given below. These responses were chosen to emulate famous EQ circuits of the past, and every one is magically "musical".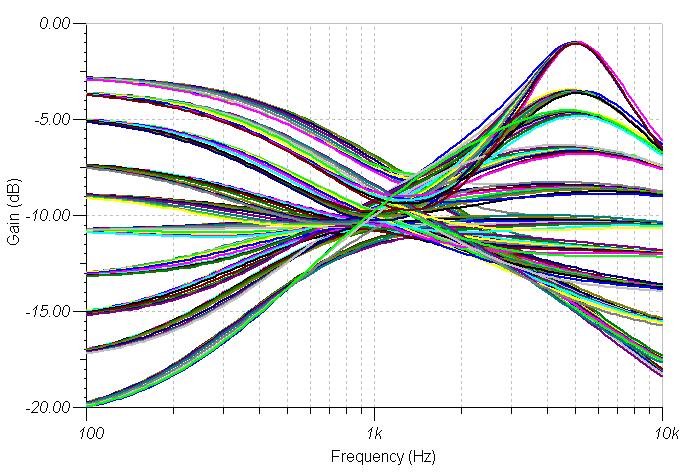 Composite response of PHILTER: 5kHz boost
The only disadvantage of passive EQ is (being passive) signal is lost and the gain must be made up. In the PHILTER, this gain is provided by the internal PHILHARMONIC amplifier; a modular amplifier modelled after the "classiest" of all classical gear!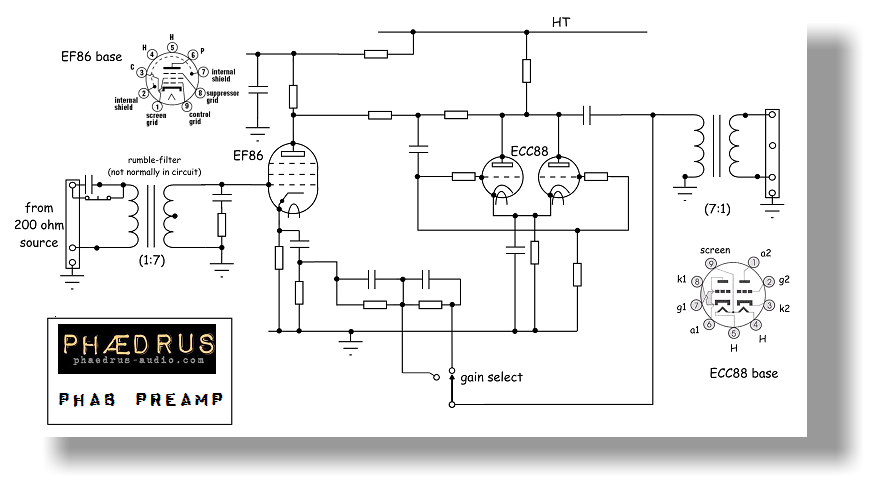 PHILHARMONIC, modular amplifier - inspired by the best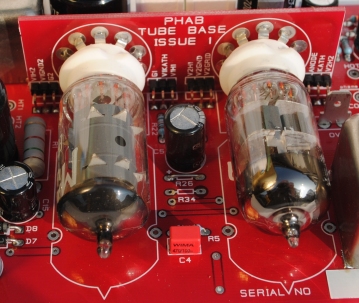 .....and using ONLY valves (tubes) for amplification



The Phædrus audio PHILTER is available...... NOW! Contact us at sales@phaedrus-audio.com or go to our How to buy page.


The PHILTER User Manual is available here




---
Links
Back to home page
Address all mail to sales@phaedrus-audio.com
---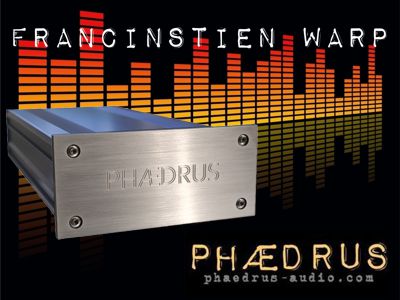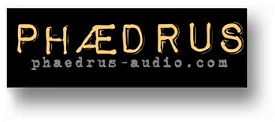 Maidstone . Kent . UK .

---
© Phædrus Audio 2012. All rights reserved.